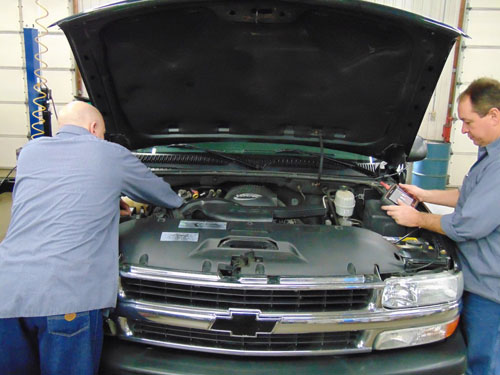 With over 20 years of experience, our mechanics know best how to treat your car. Having engine trouble? Bring your vehicle into the shop today, and we'll look it over with care. Brakes squeaking? We can fix that. Is it time for your next oil change? Bring you car into the shop. Your vehicle is in great hands because auto repair is our pride. We will always provide honest service, and a friendly environment.  
No Hassle – No Worry
Don't worry, we won't trick you into buying expensive or unnecessary repairs. The only automobile repair you'll be getting is the one you need and request. You get what you pay for, and at Ryder's Auto Service, that's quality work. From start to finish, your vehicle will be in the experienced hands of our mechanics.
Auto Repair Services
Michigan winters can take a heavy toll on your vehicle. The average Michigan motorist drives over 9,000 miles per year. That's why we buy great, reliable parts from NAPA Auto Care Center to get your vehicle back into working condition. Auto repair doesn't need to be a hassle, we understand that better than anyone. Our mechanics will address the issue with attention.  We Provide:
Domestic Automobile Repair
Foreign Automobile Repair
Check Engine Light 
Tune-ups 
Front End Repair
Steering and Suspension Repair
4 Wheel Drive Service
Anti Lock Brake Repair (ABS)
Auto Heat Repair 
Exhaust Repair 
Tie Rod Repair
Ball Joint Repair 
Wheel Bearing Repair
U joint Replacement 
Auto Headlight Repair 
Power Window Repair 
Power Lock Repair 
Full Auto Electric Repair 
Alternator Repair 
Auto Battery Replacement 
Diagnostics & More